Representative body of healthcare faculty is faculty council, which unifies faculty academic personnel and students.
Faculty conducts its activities in accordance to the provisions of the faculty regulation.
Faculty of Healthcare has been functioning at THU since 2009, dean of faculty is Professor, Doctor of Medicine Mrs. Ilona Sakvarelidze.
The one-level dental education program at the Faculty of Healthcare at THU best allows students to obtain a quality higher education that uses its own material and technical base in the learning process.
At the Faculty of Healthcare are presented Georgian, Russian and English language dental programs, as well as Georgian language program of pharmacy, which budget in 2021 year is 22000 GEL. There are fundamental and clinical training laboratories at the Faculty of Healthcare.
The faculty also has its own dental training clinic. The faculty is committed to creating the best conditions for students to study and independent research, to ensure that they meet modern standards in the relevant field of science, to receive a future-oriented education, and to constantly strive to improve their learning conditions.
The goal of the Certified Dentist educational programs is to prepare a professional, humane, responsible, competitive certified dentist in the Georgian and international labor market, who is ready for further education and professional development.
The educational process at the Faculty of Healthcare is coordinated by:
Keti Tsertsvadze
Tel: (+995) 579 540 077
Nata Giunashvili
Tel: (+995) 574 100 065
Dean of Faculty
Ilona Sakvarelidze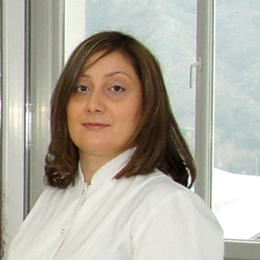 Ilona Sakvarelidze - Doctor of Medicine, Professor. In 1999 she graduated from Tbilisi Medical University. 2000-2002 - Semashko Moscow State Medical Dental University (Clinical Residency), 2002-2006 - Moscow State Medical Dental University-postgraduate course, defended her dissertation in 2006, after which she was awarded an academic degree. Experience working in the field of dentistry is 22 years. Author of numerous scientific articles. In 2013 she also graduated from Moscow State University, Faculty of Economics, Statistics and Informatics in the field of management of organizations. Since 2009 she has been the Dean of the Faculty of Healthcare at Tbilisi Humanitarian University.