Tbilisi Humanitarian Teaching University Student Self-Governance Management Authorities are: Students' General Meeting, which elects the President of Self-Government, Vice-President and Faculty Students, Students of Self-Governance Council, 20 members.
The Student Self-Governing Council was elected on 30 October 2021 and the term of its authority was determined until 30 October 2022.
Vladimer Gelovani is the president of the student self-government.
Vice-president of the student self-government (vacant).
Student Self-Governance Council Members:
Faculty of Law

1. Mariami Putkaradze
2. Erekle Gogaladze
3. Leila Gasanovi

4. Vepkhia Titvinidze

5. Giga Tsiskadze

Faculty of Economics and Business

1. Vladimer Gelovani
2. Giorgi Bajiashvili
3. Monika Kukava

4. Irakli Sarsevanidze

5. Anna Lobjanidze

Faculty of Healthcare

1. Lizi Matiashvili
2. Lasha Ivanidze
3. Mariam Lazarashvili

4. Teona Kapanadze

5. Lana Jananashvili

Faculty of Humanities

1. Natela Gadimovi
2. Marieta Kakalia
3. Avtandil Zaridze

4. Mariam Khutsishvili
5. Rati Kitoshvili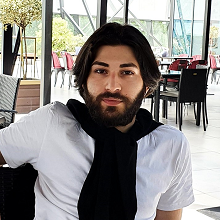 Vladimer Gelovani - president of the student self-government.